Welcome to Spirit of Fire Fellowship. If you are new to the area, the church or just looking for a new church home, we are excited that you have visited or are considering a visit.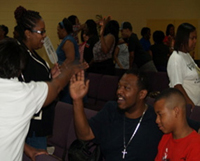 If you are a first time visitor to our church, we consider it an honor and a privilege that you have graced us with your presence today. It is not by accident that you worshipped with us today, but a God ordained appointment with your destiny. Our prayer is that you will receive all that God has for you today, thereby changing your life and those around you.
As a Visitor to our church, we ask that you please click on the "click here to fill out the form" below. Our goal for this survey, is to make sure that you had the best worship experience that we can give you. Thank you for visiting Spirit of Fire Fellowship and we look forward to you worshipping with us again.