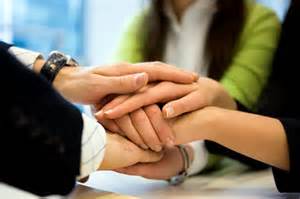 When you become "Spiritually Employed" at Spirit of Fire Fellowship, you are part of "SOFF Team." Our SOFF Teams, are the volunteer teams here at Spirit of Fire Fellowship. You are part of the puzzle; every person having a place and a part to play in the big part of......MINISTRY. We are a team specifically created for our Wednesday and Sunday Worship Serivce, Special Events, etc. focusing on Kingdom Business, meeting the needs of the people and showing the "Love of God" in everything we do.
We have several areas where you can volunteer - Media/Production, sKidz, Guest Services, A Team, and more. If you have taken your New Member's Class, you can volunteer and be a part of our Team. Click on the "Get Connected Now"button, fill out the inquiry form, and the Director overseeing the "Team" you are interested in, will be in touch with you as soon as they can. God Bless and Welcome to the "Team."
First Impressions Team
Guest Services - Welcome, inform and serve those who attend our services. This team works in conjuntion with the Ushers.
Parking Lot Team - Welcome people to the Campus in a safe and organized fashion.
Ushers - Open to men and women. This team helps to keep order during services, ministry times, assists in service flow, receiving offerings, seating people, etc.
Pastors PPA'S - This team helps the Pastors do whatever is needed. If there is a ministry that is short staffed, the PPA'S will fill in to take up slack. They also have the responsibility to ensure the safety and security of every person on the property at any given time. This area is for you if you enjoy being behind the scenes and have or are willing to be trained in emergency response management.
Guest Services
Partner Care Services - Oversee first-time guest services, including having a friendly smile and heart of grace and love and distribution of gift bags to first-time guests, as well as receiving Connection Cards for submission to our follow-up team.
Worship Arts Department
Music Ministry - Singers and musicians make up our powerful worship team, which ministers at a variety of different services and events, leading the congregation into the presence of the Lord through song.
Production - This all-important team is made up of sound techs, lighting operators and lyric technicians. Training is available for any person interested
Dedicated to the Call Dancers - A Ministry for those who have an interest in worshipping the Lord through dance. All dance levels are welcomed.
Performing Arts - A Ministry for individuals who are gifted in writing skits, films, plays, etc. stage design, graphic artists, interior design. We want to communicate the messages of God's Word in every effective way possible.
Media - This team is responsible for the production of the pictures, videos, short films, video announcements, e-mail shout-outs, our website content, Facebook and Twitter page updates, and other means of multi-media.
Other Ministry Opportunities
sGroups - The sGroups are the Life Groups of Spirit of Fire Fellowship, we encourage leaders to teach the Word to others who desire to learn what the Bible reveals regarding godly living and community in all of life's stages and various experiences. Our sGroups are divided in sections: Seeker Groups, Interest Groups, and Growth & Development Groups.
Special Events - For the person who enjoys planning, hosting, decorating, food preparation or executing events, this ministry also services special events such as conferences, concerts, etc. hosted at or by Spirit of Fire Fellowship.
Intercessor Team - Prayer is a vital part of Spirit of Fire Fellowship. Our Intercessors are trained to counsel and pray for individuals for every circumstance and situation. They are responsible for setting the atmosphere before EVERY service and during each service and praying for the First Family.
Hospitality Team - This ministry is for people who enjoy cooking and serving meals.
S.W.A.T. Evangelism Team - Plans and executes evangelistic events. This is for the person who enjoys reaching out to people in practical ways that demonstrate the love of Christ.